Just returned from my weekend of sloth with BFF Susan.
This was my first time at the
Glen Ivy Spa
in Corona. I must say, I was very impressed with all but one thing. Unfortunately, that one thing was even before we got in the gate, so my first impression was not a good one. Fortunately, the spa itself quickly erased the negative start.
We arrived just as Glen Ivy opened to find two lines waiting to get in: one for special reservations and some club thingy and the other for general admission, which we got into. The line wasn't long at all, yet it took FOR-FREAKING-EVER for it to move along. Seems the Glen Ivy employee taking folk's money had to yak yak yakkity yak with every familiar face he saw in line. People in front of us and behind us were grumbling and asking for the line to please move along. I told Susan if it took much longer, I was leaving. I mean, we were in the same spot for over 15 min. - time we spent watching folks ahead of us frolic with the GI staff. There is nothing relaxing about standing in line for no good reason, especially when paradise is just beyong the gate.
Finally, someone came and took folks ahead of us out of line and directed them someplace else. A few minutes later they came to get us and the couple ahead of us and did the same thing. We ended up being herded through the spa grounds to The Grotto, where we paid the entry fee we should have paid 30 min. earlier. In all, it took nearly 40 min. from the time we got in line until we were free to roam the spa grounds, and we were near the beginning of the line. Shame on you, Glen Ivy!
Now to the good stuff ...
After changing into our bathing suits, we staked out two chaise lounges by the big pool, then wandered over to the mineral baths. We spent about 20 min. soaking in the warm mineral enriched bubbly water before getting out and sprawling on our chaises with books. After about an hour or so of that, we headed into the women's locker room to grab a steam and whirlpool.
Throughout the grounds, Glen Ivy has jugs and jugs and jugs of free fresh cold spring water and cups. The grounds themselves are gorgeous with lots of mature tropical vegetation, shade and sunny places to sit or lounge, and even some semi-private alcoves tucked here and there, which were the first spots taken. The entire place was SPOTLESS, including the bath house/locker room, which also was stocked with lovely amenities like hair dryers, shower gel, body lotion, shampoo and conditioner. Along with the drinking water, towels were also plentiful in the locker room and at the various pools. The staff was attentive, friendly and professional.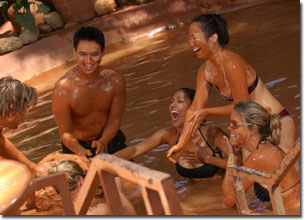 Glen Ivy guests came in all shapes, sizes and ages. Although no one under 16 is allowed, we saw many families and groups enjoying the spa together. Uncomfortable about being seen in your bathing suit? A few minutes at the spa and you'll leave that all behind. Trust me. And while there were lots of people there on Saturday, it never felt crowded or cramped.

After the whirlpool, we dried off and slipped into cover ups and headed to the cafe for lunch. The cafe is cafeteria style with tons of wonderful choices. Everything was fresh and yummy. I had soft mini tacos with grilled steak and Susan had a Vietnamese noodle soup. They even had beer, wine and tropical alcoholic drinks. If you bought a fountain drink or iced tea, you received free refills for the rest of the day. My kind of place!

After lunch, we lounged again by the pool with our books. I know I fell asleep a few times. After baking, we visited Club Mud ,a warm shallow pool with a pile of red clay mud on a rock in the middle. After getting into the mud pond, you rubbed the mud all over your body. There was also a spot where you can apply mud without going into the pool. Susan stayed in the pool but I got out, rubbed the stuff all over my legs, arms, face, etc. then let it dry. Then I got back into the pond and rinsed it off in the muddy water, followed by an outside shower to remove the rest. Then it was more sun lounging. (BTW, the weather was in the low 80's and GORGEOUS!)
We ended our day by taking another long steam, during which an attendant came in and spayed the edges of the floor with eucalyptus solution. It was heaven, especially for my recent cold and sinus problems. Then it was to the showers and into our regular clothes.

After spending the night in a nearby hotel and enjoying a leisurely breakfast, we headed home, relaxed from our mini-vacation. And I don't know when my skin has ever felt so soft and healthy.

If you haven't been to Glen Ivy, go. It costs about $50 for admission (a little less if you're an old fart like me). This is the base price without massages and other special spa services. Expect to pay around $20 for lunch. I can't wait to go back and am already checking my calendar for July or early August.

Hmmm, maybe as a reward for turning in Odelia #6?

Next time, though, we're just going for the day and skipping the hotel stay over.

SIGH, back to the grind ...