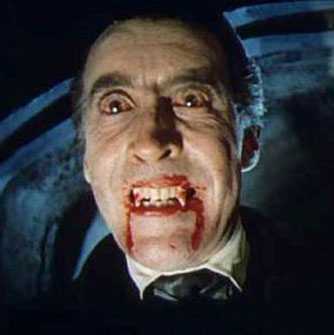 I have officially thrown my hat into the vampire-rage ring. Last year I got an idea for a vampire book and let it sit in my brain, giving it time to ferment into something solid and interesting. Then a few months ago, it knocked on my skull and said it was ready to come out.
Next, I honed and developed the idea until I had several solid chapters and a synopsis for a vampire mystery series. A series I hoped would be very different from anything out there to date. Yesterday, my agent informed me my vampire proposal was ready to be sent to various publishers. Yikes, the submission process all over again!
But the business of publishing isn't at issue here. What's bothering me is where in the hell did this idea come from? I mean, get real. Me? Write a vampire series? You've got to be kidding! At least that's what I would have said had anyone asked about it a year ago. Yet, here I am, gleefully composing paragraphs using words such as
fangs
and
undead
.
Then again, if anyone had asked me a few years ago if I had any plans to write a ghost series, I would have laughed. But look at me now.
Ghost a la Mode
was recently released and the second book in the Ghost of Granny Apples Mystery Series has been delivered to my publisher.
Never say never...