The large print hardback edition of
Thugs and Kisses
is due out any day now. It's being published by Thorndike Press, an imprint of Gale Publishing. They've even slapped on a new cover for the occasion. Kind of like buying a new dress for a special date. If you, or someone you know, would like a large print copy of
Thugs and Kisses
, the best place to purchase it is through
Amazon
.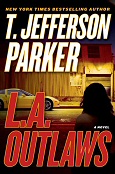 Had a fun time yesterday at
Vroman's
in Pasadena. I was on a Sassy Sleuths panel with fun gals
Harley Jane
Kozak
,
Patty Smiley
and
Kathryn Lilley
. This was a repeat performance from an earlier event when the power went out at Vroman's due to a fire up the street. After, Kathryn and I joined Diana and
Darrell James
for a bite to eat at the Green Street Restaurant, where the talk centered on the book biz - what else?
Friday was a lazy day. Instead of going to 4th of July festivities, I stayed home, wrote, read and watched movies on TV. Finished
L.A. Outlaws
by
T. Jefferson Parker
. (It's an exciting thrill ride!) And started
TKO
by the delightful
Tom Schreck
. Another book I finished recently is
Mama Does Time
by
Deborah Sharp
. I had the honor of reading a preview copy. It's HYSTERICAL! It's not due out until October, but is available for pre-order.
Today is chock full of house-bound activities. Besides hours of writing, I have a LONG to-do list of chores around the house. I find on days like this, I function best when I write for an hour or so, then do several chores; go back to writing; then a chore or two. When the long day is done, I have a nice stack of finished pages and most of my household jobs are complete. I just finished a few pages on
The Ghost of Granny Apples
. Next up is laundry and grooming B.
Here kitty, kitty...


Just
40
days until
The Ghost of Granny Apples
is due at my publisher. YIKES!
Hope you all had a great 4th!