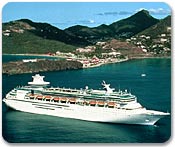 Forget the Love Boat, come sail with me on the Birthday Book Boat!
Friday, December 21, 2007, is my 55th birthday, and to celebrate I'm taking a weekend cruise with my good friend Susan aboard Royal Caribbean's Monarch of the Seas. The cruise leaves Los Angeles and travels to Ensenada, Mexico and back. I can't wait!
But here's the really fun part. Royal Caribbean is giving me time on Sunday, December 23rd, to talk to passengers about books and mysteries. My birthday and I get to talk about books -- now that's what I call a celebration!
If any of you mystery fans are thinking about taking a short cruise before the end of the year, consider this one. Not only am I planning a fun talk and will have books available for sale, but attendees will have an opportunity to win door prizes.

When you get there, look for me. I'll be the one with the green face holding a piña colada and humming the Love Boat theme while waiting for the Dramamine to kick in.