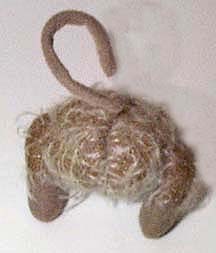 Two of my favorite words are "rat's" and "ass," preferably used together. So just for the hell of it, I imaged Googled "rat's ass." (At this point I could lie and say it was for research, but the truth of it is, I was just wasting time. And, frankly, who gives a rat's ass? Outside of my publisher, agent, and manager, that is.) Anyway, much to my surprise, several images popped up, including the one to the left.
This, friends, is a Rat's Ass as interpreted by teddy bear designer
Martha DeRaimo-Burch
. What's more, Martha makes and
sells
these cute little patooties in three different forms: pins, paperweights and magnets. I'm gonna buy a few as soon as I figure out how many people are on my shopping list.
Martha, you are a true kindred spirit!