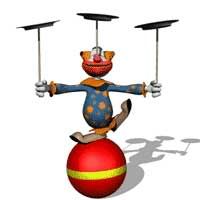 This picture is how I feel this morning. Actually, it's how I feel a lot of days.

Since returning from my San Diego trip, my day job has kicked into high gear. At the perfectly nice law firm where perfectly nice people pay me to be a paralegal my normal work day has jumped from 8 hours to 10-12 hours a day. It's not forever, just until this special project is launched. I go to work, bury myself in the mounds of paper and meetings, come home, do a few minimal chores and go to bed. The next day I do it all over again.

Notice, please, no where in my description of my current lifestyle do you see the word writing. That's because, except for this blog and correspondence, none is getting done. But it's not forever, just through this week, and then it's back on track.

Such is the life of a writer with a day job. Even my muse, Selma Diamond, understands. She's well aware that ye old day job pays for the Internet, the roof over our heads, and the cat kibble, and must be given the right-of-way in times like these.

This past weekend I had two whole days... I thought... to write. Unfortunately, the business of writing got in the way. For those of you who think that all a writer does is write, let me introduce you to the business of writing. In addition to much needed household chores (which didn't get entirely done), this past weekend was spent promoting my books, website and blog upkeep, responding to reader mail, writing thank yous for speaking engagements, phone calls and e-mails regarding speaking engagements, Sisters In Crime/LA chores, maintaining and updating timelines and notes for novels and research, correspondence and phone calls with my agent and my manager, reading and making notes on critiques and feedback on Mother Mayhem from editor, agent and focus readers, reading feedback on Epitaph Envy from agent and making notes on same.

At no time during the weekend did I sit down and actually write on any of the 3 novels and one short story I have in the pipeline and which each have their own looming deadline. When I don't write, I feel like someone who doesn't get their cup of morning coffee ... grrrrrr.

In a few minutes I'm off to ye old day job and another long day. Tonight at 6:30 I'll be speaking at the Rancho Park Library at 2920 Overland Avenue in Los Angeles.

Did I just hear a plate crash?